In the Can: The Uncommon
In the second of our In the Can series, we catch up with Henry Connell, co-founder of The Uncommon – producers of award-winning wines and spritzers, and the first ever English sparkling wine in a can.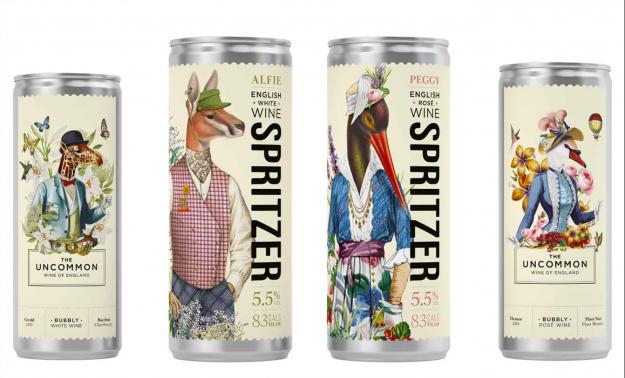 Tell us about yourself – what's your background and where did the idea for The Uncommon come from?
I worked in commercial real estate all over the world for 10 years before ending up in NYC. That's where I got the idea for canned wine – it's kind of a thing in California, Oregon and New York. I was planning on moving back to England when I read an interview with Chris Foss (Head of Plumpton's wine department) talking about how the UK wine industry had changed since he started the wine course at Plumpton in 1988. I was instantly fascinated. I called him the following week and he gave me advice on how to get into the English wine industry. That summer, I quit my finance job in New York and picked up some work experience at Hattingley Valley and Nyetimber before doing some intensive viticulture and oenology courses at Plumpton and then my WSET 3. I then started working with my old pal Alex. He is graphic designer and the ying to my yang.  As outsiders, we approached The Uncommon the wrong way round.  We knew we could create a market with our concept and the right brand; after that just needed to figure out how to fill the cans – and with what!
You've launched four wines so far – can you tell us a little more about them?
We launched in 2018 with a bacchus. It has been a huge success and gave us to confidence to expand our range, which now includes a rosé, white spritzer and rosé spritzer. We buy the grapes on the open market and partner with Litmus to make the wine. They were great to work with; we had regular tastings and some nice reassuring words along the way. We then collect the still wine from them and add a little C02 to freshen it up.
Not only did each of your wines scoop gold at the 2020 International Canned Wine Competition, the series also won package design recognition for their illustrations too. Who is behind the branding?
We had a rough idea of what we wanted and found a freelance illustrator who took our brief and made it his own. He is self-confessed weirdo and that's why we chose him! Each element of our long form illustration represents a part of the us or the wine – elderflower for the nose, the motorbike for our sense of curiosity and adventure, the radio for outdoor events and festivals, the tortoise represents the time is takes to make wine and so on … oh – and a giraffe because they look slick in a suit!
Why did you choose the can?
From our local production, to our packaging, sustainability is key to every choice made along the way – even our canning process is carbon positive, all powered by green, renewable energy and gives back to the grid. Not only are cans are endlessly recyclable, they're extra light for the little transport they have to do. Our wines are not for hiding in cellars. They are young and aromatic, so cans seal the freshness in far better than a bottle could, and as single servings, there is far less waste when you just want a bit of bubbly. In every way, we believe cans are the best we can bring our wine to you.
What do other producers make of your venture?
They have been really good to us so far and see us as a compliment to the burgeoning industry. We all have the same goal. Ultimately, we are making really good English wine – it just happens to be in a tin for environmental and convenience reasons. There is a time and a place for The Uncommon; those who already drink and enjoy English wine may chose us for a picnic or outdoor event, whilst those that have tried The Uncommon will chose an English Sparkling over a Champagne for a celebration, for example. We feel passionate about supporting English farmers and want to help raise the profile of English wine as an active member of Wine GB.
Do you think other producers will follow suit?
Who knows, I'm as interested as you to find out!
To find out more about The Uncommon, go to: https://wearetheuncommon.co.uk/