Why High-end Brands are Embracing the Can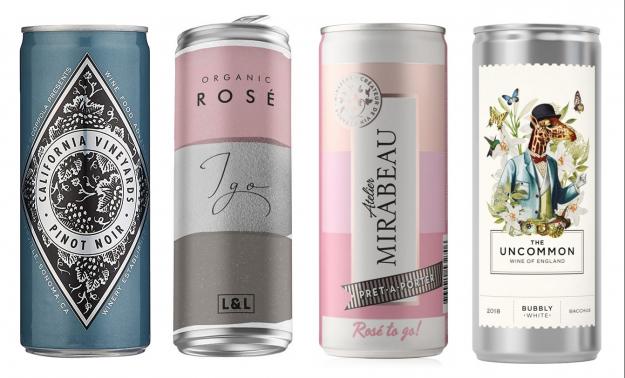 With public demand for canned drinks at a record high, premium brands have embraced the versatile brewing can en masse. From iced coffee to cocktails, craft beer to chardonnay, the once humble beverage can has become the container of choice for many producers.

Here are a few recent examples of brands which have discovered the can's unique qualities:
Sustainability sells
Jim Cregan, co-founder of Jimmy's Iced coffee, ditched the company's longstanding plastic cartons in favour of aluminium cans in April 2020. As head of the Devon based company, he found he could not, in good conscience, go on adding to the plastic debris he saw washing up each day on the beach nearby.
Operations director Luke Wilkes said: "These [plastic bottle caps] could have been from our products. This was not cool".
Now, the company is something of an industry forerunner in terms of sustainable packaging, with its whole range available in resealable, 100% recyclable aluminium bottle cans as well as traditional beverage cans. This eco-mindedness is just one way for companies in the premium food and drink sector to distinguish their products from wasteful alternatives.
Improvise, adapt, overcome
The beverage can's versatility and convenience has been key to the recent success of businesses like Igo, the Spanish wine producer. Whilst wine sales from the hard-hit hospitality industry plummeted, Igo saw their profits go up.
Patricia Localle, co-founder of Igo, said: "We have all changed our habits due to Covid-19 and have adapted to new forms of outdoor activities such as picnics."
"For just such occasions, canned wines are the perfect companion as they are easy to carry, easy to chill, and, most importantly, easy to enjoy."
Igo certainly are not the only brand hoping to captivate the casual outdoor drinking trend. Smokehead Islay Single Malt, of Ian MacLeod distillers Ltd, made history by releasing the world's first canned single malt premix on the 5th of July 2021. Smokehead brand director, Iain Weir, said: "With summer here and BBQ season in full swing, what better time to launch the first ever pre-mixed single malt Scotch whisky in a can?"
They follow in the footsteps of "White Claw", the market leading ready-to-drink (RTD) producer, which saw sales more than double during the pandemic (from 24.4million cases to 58.5million in 2020). Despite being just five years old, White Claw, who exclusively sell canned RTDs, has demonstrated the potential for meteoric growth through the adoption of the beverage can format.
Can's make more sense in an outdoor setting: they are lighter than glass bottles, so are easier to carry, and they will chill faster in a fridge, ice box or even a mountain stream. Many green spaces even ban the use of glass on site for safety reasons, making cans the only viable option for a casual drink.
Great design yields greater profit
Too often expense begets cumbersome flimsiness. Not so with the beverage can: its durability and potential for convenient transportation has been of great benefit to the companies who have capitalised upon its robust qualities. Luke Wilkes added: "Cans represent a huge opportunity from an international perspective and also when delivering product to peoples' doors – packages get chucked around and damaged in transit. In our cans we're seeing no damage whatsoever."
As well as being sturdier than glass bottles, aluminium cans are much thinner and lighter. An empty 330ml beer bottle weighs about 200g (198g), whilst an empty can of the same volume weighs less than 15g (14.2g). Canned drinks are hence cheaper to ship, as less fuel is needed to transport them.
Even still, the can continues to develop, as inventor Jeroen Van Goolen demonstrates with his new design for a resealable, refillable beverage can. The Dutch innovator identified the enormous potential of a beverage can which could directly challenge plastic bottles as a container to be used over time, sipped from, resealed and stored again. Though some resealable cans have already been introduced to the market, with a mixed reception, Jeroen's "Sav-ty closure" prototypes are more ergonomic, tamper-proof and cheaper than resealable PET plastic or glass containers currently available. The Sav-ty resealable end system offers the chance for sustainable beverage cans to thrive in the multi-use market, currently dominated by plastic bottles.
Quality assurance
The beverage can is resistant to several issues affecting the quality of drinks in other containers on the market. Sunlight is known to muddle and worsen the taste of drinks in plastic or glass bottles (especially beer), but the can's opaqueness prevents this. Likewise, air can leach into glass bottles and change the taste of a drink over time if the cap is faulty or damaged. Caps are also susceptible to corrosion, which can give the beverage an unpleasant metallic taste. Cans, however, are lined with a recyclable aqueous polymer which (contrary to popular misconceptions) prevents the aluminium from affecting the way a drink tastes. Ergo, cans preserve the beverage far more reliably than alternative options.
Demand for cans is only rising, and with the catalogue of benefits on offer for brands that use them, newcomers and established companies alike are increasingly turning to the eco-friendly, convenient, cost-effective beverage can.