Cans on the Riesling: is wine losing its bottle?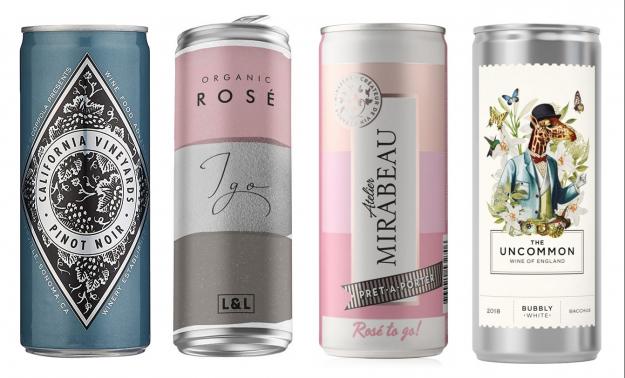 With canned wine the subject of increasing media attention, there is little doubt its popularity is rising rapidly. In fact, the market was said to be worth £3.6m having increased by 125% in the year to August 2019, reported The Sun.
More recently, Delicious Magazine recently featured a Mirabeau Pret-a-Porter Rose in its Holiday Special feature while the Mail Online and Sunday Express also recently reported on the quality of canned wine. It may still seem novel, but the reality today is that most of the top wineries are canning. And it's easy to see why.
The first California wine in a single-serving can is reputed to have emerged as early as 1936 but it was only at the end of the 90's, when concerns about the tainting effect of corks became more widespread, that some wineries began to use aluminium screw caps as standard. Inevitably this led to some experimenting with aluminium cans.
Despite this, the ubiquitous bottle continued to dominate the market, other packaging materials focusing their attention of beer, soft drinks and more recently, spirits and mixers.
But as a growing number of brands realise the opportunities for growth in wine, targeting new demographics, all of this is set to change. One has only to look to the success of the UK's craft beer industry which is booming to see the potential. The 330ml can is undoubtedly one of driving forces behind the recent explosion. The advantages offered by cans of all sizes have not been lost on other market segments.
Today, an increasing number of brands are taking advantage of the sustainable design opportunities of slim line 250ml and 200ml cans. From dry white wine made exclusively from bacchus grapes grown just 20 miles from London, to classically aromatic Sauvignon Blancs from New Zealand.
For the brands behind these wines, their packaging must do three things effectively: protect the contents from the harmful effects of oxygen, bacteria and contaminants, allow the wine to be transported, stored and consumed, and provide information about the product.
Cans tick all of these boxes, and they do so more sustainably while also offering unique design opportunities, vital for brands seeking penetration in a crowded marketplace. At the same time, the can's strength and low weight make it the ideal packaging format for online retailers. The growth in ecommerce during lockdown has been well documented. Market data analysts Nielsen recently reported that online sales accounted for 14% of all grocery spend in the UK in the four weeks ending 11th July 2020 while year on year online sales for the same period grew by 115%2.
BABE, reputed to be one of the fastest growing canned wines in the US, is now set to launch in the UK after securing an exclusive deal with Sainsburys. Kendra Kuppin, product owner for BABE UK, recently commented in Feast Magazine that the brand was 'moving on from the stuffiness and formality traditionally associated with wine'3, hoping that its 200ml single serve sparkling rosé will find equal appeal in the UK with young adults.
Meanwhile, a quarter of consumers recently surveyed by Bacardi4, said they were planning to buy canned, ready-to-drink cocktails, spirits or mixers for the summer's social occasions.
Research conducted recently by Robert Williams Jr., Ph.D., the Pennsylvania university marketing professor, and partner in WICresearch.com, following a survey of more than 1,700 consumers, identified six key reasons why consumers opted specifically for wine in cans.
Convenience and portion control were, not surprisingly, among these, but sustainability was also one of the most cited reasons to buy cans rather than bottles. And it is this as much as anything which will secure brand loyalty for all market segments in the years ahead. Simply put, it will only become more important for brands to demonstrate their sustainability credentials, and the beverage can is ideally placed to meet consumer demand. It is already the most recycled drinks pack in the world, with a global average of 69%; in Europe it is 74.5% and in the UK it is 76%.
The UK has the reprocessing infrastructure to recycle every single can placed on the market, and the process saves 95% of the emissions and the energy consumed, when comparing to using primary aluminium. Every can is fully recyclable regardless of size or colour and the process takes just 60 days resulting in no loss of quality. In other words, the metal used to create cans is a permanently available material.
There can be little doubt then, that we are about to see exponential growth in canned wine, as well as other beverages, across the globe. The only question, is when will your favourite tipple take advantage of this new format?