In the Can: The Copper Crew
In the first of a new series of interviews, in which the Can Makers speak to brands bringing new premium beverages to the market in cans, we talk to Oli Purnell, co-founder of The Copper Crew.
Founded by three young entrepreneurs, Oli Purnell, Theo Gough and Sam Lambson, the team focus on sourcing and blending South African wines, specifically to be canned. Based in Cambridge, The Copper Crew launched their first two wines, a Rosé and Chenin Blanc, in July followed by a Merlot in October.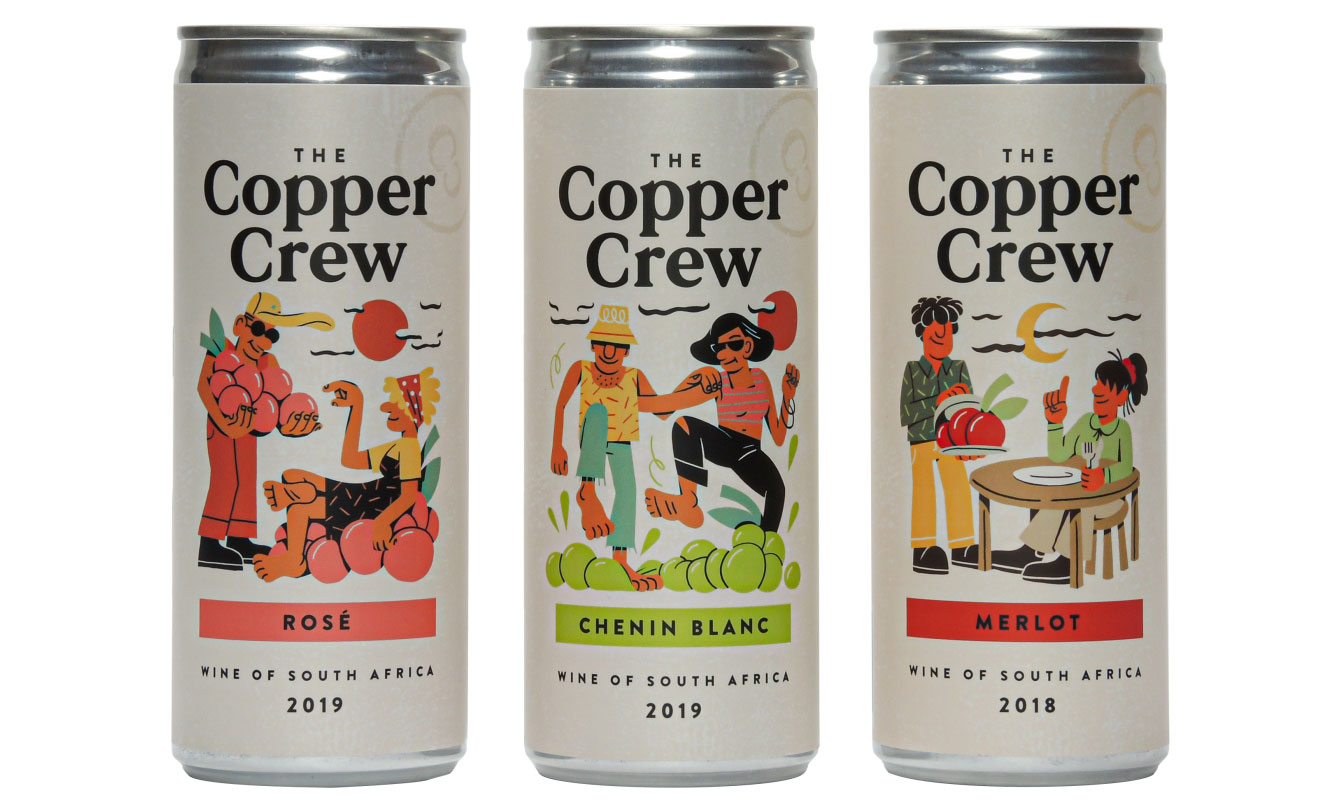 Thanks for talking with us Oli. Tell us about yourself and the team – what's your background?
The three of us have been friends for years and with a shared interest in wine. Sam is the real guru – he recently completed his degree in oenology (the study of wine and wine making) at the University of Stellenbosch. He actually launched his first wine while he was there, after founding Minimalist Wines. It was extremely well received – in fact he sold out completely and ended up signing an exclusive export deal. It was written up as one of Jancis Robinson's unofficial wines of the week.
It was while exhibiting for Minimalist Wines back in 2019 that Sam and Theo first started making the link between young winemakers, changing consumer preferences and sustainability. Meanwhile I was studying in the U.S. and noticed the rapid growth of canned wine. Several conversations later we decided to join forces and make it a full-time venture.
You've launched three wines so far – can you tell us a little more about them?
Absolutely – the first is the Chenin Blanc, 13.5%. Pale gold in the glass it's a textural wine, its richness gives way to zestiness, resulting in a long, pithy finish. Our tasting notes describe aromas of lemon meringue and passion fruit, lifted by citrus (orange, grapefruit), and melon notes.
The second is our Rosé, 13.5% which is a blend of five Rhône cultivars: Syrah, Grenache, Mourvèdre, Cinsault, Viognier. It's medium (-) in body and has juicy aromas of ripe red cherry and plum, followed by a hint of baking spices (clove and cinnamon) and delicate floral undertones (violet).
And last but not least, the Merlot. A drought vintage with tiny, concentrated berries, the wine is deep ruby colour. Upfront with fruit, notes of juicy cherry and ripe blackberry are dusted with cocoa, it's medium-plus in body, and the palate's fruity core tends to liquorice, dark chocolate and tobacco. Pronounced length with fine grained, velvety tannin. We are very excited about it.
We currently offer each wine in cases of six cans, 12 or 24. Mixed cases are also available and proving popular.
You set out deliberately to sell wine in cans – was this simply for their environmental credentials?
Sustainable practices are very important to us and being infinitely recyclable, the can was the obvious choice. But this was a considered decision and based on a variety of factors.
Cans offer all sorts of advantages. They're convenient, and as we say, our wines are not for the cellar, but everywhere else.
Cans also chill quickly and they actually protect the taste of a good wine. At the end of the day, we know that consumers like cans. If we didn't believe the can offered a commercial advantage, we wouldn't be sat here now.
There's also an element of social responsibility at play – cans offer portion control and at the same time, help to cut waste. On average, Brits throw away two glasses of wine every week – that's equivalent to well over 600 million bottles every year. That isn't good for anyone. The can is an obvious solution.
What's next for The Copper Crew?
We're excited to be working on a new marketing campaign, gift pack options for Xmas and getting stocked everywhere and anywhere we can. We also hope to wheel out our 1984 ambulance to events in the not too distant future.
To find out more about The Copper Crew, visit: https://www.coppercrew.co.uk/