Design trends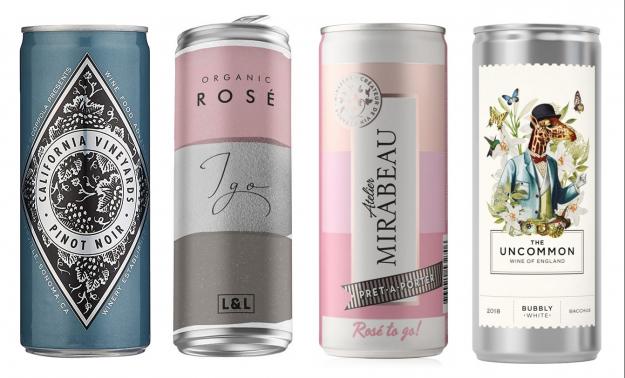 The pandemic has changed the face of retail; lockdowns and the closure of bricks-and-mortar stores have meant e-commerce is a more integrated part of everyday life than ever. Globally, 49% of consumers shop online more now than they did pre-COVID-19, which has had a huge impact on how brands present their products.
Here are a few of the design trends drinks brands should be aware of as we head out of lockdown and beyond.
Keep it simple
With online shopping habits likely here to stay, for many drink businesses the only chance they will get to have a physical interaction with their customers is when their order arrives in the post. Standing out on a screen is now just as important as shelf appeal.
One of the biggest design trends for drinks packaging is about making product names the star of the show, favouring creative lettering and typography over images and logos to give products personality. This type of design is simple, but an effective way to introduce consumers to emerging brands.
This also taps into the ongoing minimalism trend, which focuses on a single visual element, font or colour for an uncluttered look. Although you might be working with a more limited palette, single block colour designs let the copy shine and are an effective way to make a big visual impact.
Bermondsey-based Fourpure Brewing Co. recently unveiled a sleek, minimalist rebrand aimed at making craft beer easier to navigate. The rebrand new look involves clear-cut packaging with no-nonsense product names like 'Lager' and 'IPA' designed to be easy to navigate for all drinkers, whether they are familiar with craft beer or not.
Detailed ink drawings
Of course, minimalism isn't for everyone, and at the opposite end of the scale we are also seeing lots of brands opt for intricate illustrations. This artwork is often inspired by nature – a reflection perhaps of our new-found appreciation for the great outdoors.
Placed against a simple background, these packaging designs give brands the opportunity to show off their quirky side, as seen on The Uncommon wine labels.
Story-driven packaging
The power of a brand story in influencing sales is increasingly evident as new, younger consumers start making more informed purchases based on a brand's purpose. Product packaging is an effective avenue for telling that story through a combination of your product's history, logo, mission and more.
The choice of packaging materials can further support your brand story, particularly if sustainability is among your values. Opting for metal means your product becomes part of the circular economy – a loop in which materials are recycled again and again and will always be available for future generations.
Around 75% of all aluminium ever produced in the world is still in use today and 76% of all aluminium cans are recycled in the UK, making beverage cans the perfect starting point for environmentally-focused brands to start their packaging design journey.
Make it personal
According to Mintel, 43% of surveyed consumers expect products to 'meet their personalised needs'. As such, they may expect products to come in personalised packaging that taps into what matters most to them. Personalisation ensures consumers feel a brand treats them as an individual and helps build a connection.
Coca-Cola recognised the power of this approach in 2014 when it launched its 'Share a Coke' campaign, in which it replaced its iconic brand name with one of the 250 most popular American names. This year the 'Open to Better' campaign sees Coke's cans redesigned with its usual logo replaced by text where customers can make personal pledges to do things differently in 2021.
Football magazine MUNDIAL has also tapped into this trend by releasing a beer collection in time for the Euros. Working with independent West London beer makers Portobello Brewery, MUNDIAL has released a limited edition run of beer can designs inspired by iconic football shirts.
Sustainable packaging design
A research report from E.ON revealed than a third (36%) of Brits saying that they're buying products from companies with strong environmental credentials.
A further four in five (80%) say they are planning to purchase goods and services from businesses they know have made a concerted effort to be environmentally friendly.
This is why it has become essential to consider sustainability when thinking about packaging design. More than 75% of consumers say they would choose the beverage can in preference to other packaging formats, once they were aware of the can's sustainability benefits, according to an IPSOS survey.