A healthy future for soft drinks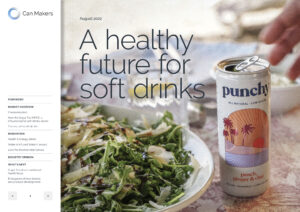 Can Makers, the trade body representing drinks can manufacturers in the UK, has published the second in its series of beverage reports – A healthy future for soft drinks.
Examining the key issues facing manufacturers as well as market trends and new product development, the report also deals with Low/No beverages, health and energy drinks and water. It follows the release of the Can Makers report, The rise of wine in a can, published in June this year.
Valued at more than £13.6bn1 the soft drinks sector is remarkably diverse and one which has seen innovation in every niche, from the increasingly sophisticated and so called 'adult' soft drinks to infused water in a vast range of flavours. At the same time, soft drinks are outperforming all other segments in the on-trade, including wine, cider and beer.
Simon Gresty, Can Makers chairman, said: "We know that an increasingly high percentage of consumers are actively reducing their alcohol consumption and the trend is mirrored in the on-trade, where research2 shows that 29% of adult pub visits today are 'dry'.
"The fact is that people still want to socialise and enjoy a great tasting drink, just not necessarily an alcoholic one. This trend for reduced alcohol intake is driving new levels of innovation across the soft drinks market and we're seeing many brands striving to create a premium position in the market to differentiate more effectively."
The report, which examines external factors affecting the industry such as the sugar tax, and trends such as the rise of health drinks, also includes comment from experts and brand leaders across the market including Paddy Cavanagh-Butler, founder of premium soft drinks brand Punchy, and Georgie Bolton Carter, senior brand manager, Dash Water, plus Nick McKay, commercial director at the premium soda drinks brand Square Root.
Mr Gresty added: "The significance of the trend towards reduced alcohol consumption should not be underestimated. Driven largely by younger consumers among whom more than a quarter are teetotal according to industry research, it presents an opportunity which must sit alongside environmental sustainability in the proposition of tomorrow's leading brands. And the can is ideally suited to help brands respond to both. An enabler for creative design and already the world's most recycled beverage packaging format, the only question is whether we will see the larger, well-established brands taking full advantage of the can's credentials to dominate the market, or an explosion of new soft drinks brands launching exclusively in cans."
To download the report, go to: A Healthy Future for Soft Drinks