The 12 Cans of Christmas
Whether you're one for embracing the festivities or take more of a Bah Humbug approach, it seems the ongoing threat of COVID-19 is set to scupper the traditional "Christmas do" this year.
However, the enforced closures of our favourite festive haunts needn't spell the end of the beloved Yuletide knees up, as thanks to the humble beverage can, there's a wealth of bar quality offerings vying to bring the party to you this Christmas.
Thanks in part to the craft beer revolution and an increase in at-home consumption, 2020 has seen an influx of creatively crafted, premium canned cocktails hit supermarket shelves across the land – and it's fair to say they've taken the nation by storm.
With 10 million Brits now including cocktails in their drinks repertoires, and demand growing at 10% per annum, canned cocktails have even been added to the basket of goods the U.K. statistics office uses to calculate inflation.
Likewise, canned wine is fast becoming big business too, with the UK market now worth more than £3.6 million and global sales set to reach a staggering £118.7m by 2027.
This surge in popularity follows the trend in the US, where last year over two hundred canned wines from across the globe battled it out at the first annual International Canned Wine Competition in California.
But it's not just the quality of these products that make the caned format so appealing, they're better for the planet too. Lighter and easier to recycle, the can boasts a much smaller carbon footprint than its packaging rivals, while in the UK, 76% of aluminium cans are recycled.
So, clear some space in the fridge, crank up your favourite Christmas tunes, and crack open a can of your favourite holiday tiple. Here's our pick of the best.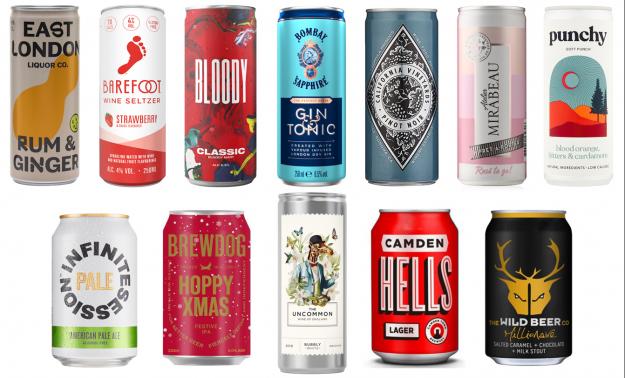 Francis Ford Coppola Diamond Pinot Noir, 13.5% abv
Grown in the cool climate of Monterey County, California, Coppola's Diamond Pinot Noir offers a stunning fragrance and vibrant texture. It's stylish character and flawless balance reflect a textbook vintage and exceptional fruit quality.
The Uncommon Bacchus, 11.5% abv